Where to Find the Best IT Server in Oklahoma City
For over 20 years, CamTech has been the leader of IT Support in the Oklahoma City area. We work hard to continue to bring innovation and dependability into our company's services to help our clients succeed. We understand the importance of quality IT support, as offering a variety of services allows clients to worry less about tech issues and more about running their business and staying successful. This fact is what drives us as a company and influences us to push ourselves to continue to bring innovation to our business.
The ways we have been able to do so include our forward-thinking mindset as a company and our business connections. These business connections allow us to offer more ways to support our clients and help us continue to be the best IT support company in the area. As a company that strives for greatness, we feel proud to be able to offer our clients quality and numerous services that help them grow and succeed as a business. So, if you are a business owner looking for an IT support company that is set above the rest, consider contacting CamTech today!
The Variety of Services Offered By CamTech
At CamTech, we offer several services to help ensure that all of our clients' tech issues can be resolved. Our dedication to serving our clients is what influences us to offer services like server support and knowledge, as well as many other options that are sure to help with many tech issues. These services include:
Tech Support
Cybersecurity
Networking
Data Storage Solutions
Backup and Disaster Solutions
HIPAA Compliant Services
Email Solutions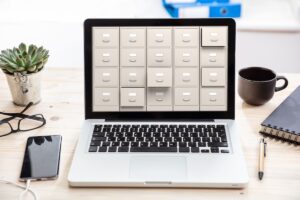 Why CamTech is the IT Support Expert in Oklahoma City
CamTech is a company that is driven by innovation and client satisfaction. This fact is what has allowed us to work with clients globally and has earned us awards such as the Microsoft Gold Partner Award. This award was a great success for us as it recognizes our constant raising of the bar of what it means to be "Partners in Technology" with our clients. Our commitment to our clients is also shown through our HTG Membership.
This membership allows us to be able to dispatch onsite engineers nearly anywhere in the United States to fix clients' tech issues in person. Being an HTG Member is an accomplishment for CamTech as well as being a member requires companies to meet rigorous annual qualifications through the required company and employee training programs. This commitment is worth it though as it allows us to continue to innovate and offer different services to our clients and keep our standard of tech support high. With a dedication to great tech support, CamTech is the clear choice to make when it comes to choosing the best IT support company in the Oklahoma City area.