Who is the Best IT Support Company in the Oklahoma City and Tulsa Areas?
For over 20 years, CamTech has worked hard to bring innovation into the business technology consultant and IT service industry. In this time, we have managed IT infrastructures for business all around the country, helping these businesses maintain their global presence. We know that what we do is important for our clients as our IT services give businesses one less thing to worry about.
We offer fast and helpful solutions for our clients and tools that keep our clients productive, effective, and sturdy. Our business relationships also allow us to provide our clients with the best technical support in the United States, creating one more reason why CamTech is the best choice to make when it comes to choosing an IT support company in the Oklahoma City or Tulsa area. With our innovation and dependability in the IT support industry, we have even had the chance to work on a global scale with other companies and still deliver satisfactory tech support. So, if you are looking for an IT support company that will work hard to deliver the best tech support possible, consider contacting CamTech today!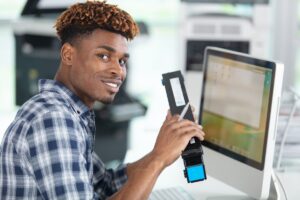 Services We Offer
At CamTech, we know that there is a lot of work that comes with great tech support. This is why we offer a variety of IT support services as it helps ensure that we will be able to address and correct any issues a client may be having. We pride ourselves on being able to offer this dependability and know the significance it has when dealing with clients. This variety of IT support services includes:
Tech Support
Cybersecurity
Networking
Data Storage Solutions
Backup and Disaster Solutions
HIPAA Compliant Services
Email Solutions
Tulsa and Oklahoma City's Experts in IT Support
There are several reasons as to why CamTech can be considered the best in the business when it comes to IT support. We have created a standard of what IT providers can do for businesses and have been able to win awards like the Microsoft Gold Partner Award because of this dedication. By winning this award, we were recognized as a company that continues to redefine and raise the bar on what it means to be a "Partner in Technology" with our clients.
We are also proud to say that we are an HGT Member, meaning we are able to offer dispatch onsite engineers almost anywhere in the United States who are able to address and fix any tech issues our clients may face in person. This partnership allows us to continue adopting cutting-edge business practices while offering our clients innovative programs. This commitment to innovation and our clients is what makes us at CamTech believe that we are the best in the business and the right choice to make when it comes to IT support in Tulsa or Oklahoma City.