The Best Tech Company in Tulsa 
CamTech has been working both in the Tulsa community and globally for over 20 years to provide quality and trustworthy tech services. We offer a range of services from tech support, cyber security, networking, and data storage and have delivered these services to customers all around the world! Although our reach is wide, we work hard in servicing our home town of Tulsa, Oklahoma as well.
Here, we offer top notch tech services that offer fast and reliable services. CamTech can be seen as innovative as we are constantly evolving as tech needs grow. This allows us to successfully manage IT infrastructures throughout the state, nation, and world. We will work hard to make sure your tech needs are satisfied, making us a company that our customers love. Our spectacular customer service and unbeatable tech services make CamTech the company to choose when looking for tech services in the Tulsa area.
Tech Company in Tulsa You Can Trust
As a trusted solution from computer hardware and information systems, we are able to serve medium and large businesses in the Tulsa area and offer help when it comes to any of your company's IT questions. Doing so allows us to ensure your company operates smoothly and efficiently online and contributes to your overall success. We offer a variety of services to make sure your business is catered to and pride ourselves on our excellent customer care.
CamTech is also dedicated to securing your company's online presence with our outstanding cybersecurity services. With dedication and knowledge, we are able to deliver dependable services to our customers that leave them feeling protected and well served when it comes to their tech needs.
Why Tech Services are Important in Tulsa 
Using online sources in your company is essential in the present work environment, and cybersecurity is just as important. CamTech understands this reality and works hard to provide services that benefit Tulsa companies. Our cyber security services offer firewall protection, email filtering, server backups, and more to ensure that your company's online presence is being looked after.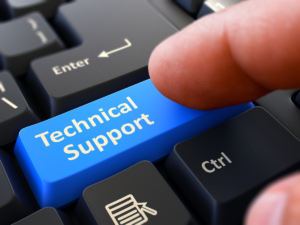 By offering exceptional cybersecurity services, you can feel confident about the wellbeing of your Tulsa business in knowing that you are receiving services from the best Tulsa tech company around. Our dedication to offering the best tech and cybersecurity services in the industry means that your business will benefit and grow as we continue to service you and your tech needs. If you are concerned about the wellbeing of your company's online presence or want more out of your tech support, then consider CamTech.
Our exceptional services speak for themselves when considering our customer testimonials and our dedication to tech services will result in the benefit of your Tulsa business. By contacting us today, you are ensuring the technological safety and success of your business by using the best tech company in the industry.