Tulsa Data Storage
Having the proper data storage for your business is essential for its efficiency and productivity. Finding a good IT support company that can manage this aspect of your business can be one of the best decisions you can make for your small business. Data storage is a needed solution for any home and business.
Having a local data storage company is essential and yields long-lasting benefits, such as data safety, security, and a good return on investment with work done that supports your business outcomes. You will also get hands-on expertise for any issue that might come up. Investing in a suitable data storage company will aid in the quality of your business operations and save you time and money in the long run. 
Tulsa's Best Data Storage
CamTech is Tulsa's premier data storage company in the Tulsa area. We can assist you with any data storage needs within your business. We will help you with your most pressing data storage issues. We assist you with expert solutions for your computer hardware, software, cybersecurity, networking, and data storage needs.
Our team has years of experience dealing with computers and various IT issues. Have a problem installing software or troubleshooting issues? We can install, uninstall, configure programs, and change registry settings. Small to medium-sized businesses use our services regularly. We pride ourselves on providing stellar customer service to their companies. Our team will stick with you through the completion of your project. We will work with you to ensure you are satisfied and deliver measurable results.
Our team of IT professionals will ensure that your data storage needs will no longer hinder the efficiency and productivity of your business. As a full-service provider, we can help you with any issue that arises. We specialize in all areas of IT; we will work to provide you with the solutions you need. We are the premier data storage company in Tulsa for all of your IT needs.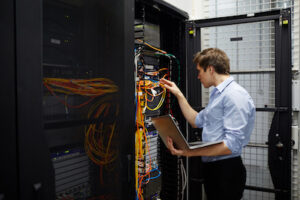 We offer a wide- range of IT services to assist you! These services include:
Tulsa's Data Storage Experts
You need a competent and skilled company to handle your needs when it comes to your data storage issues! We are the best company in the Tulsa area. We have been in business for over 20 years, servicing businesses and managing IT infrastructures in Oklahoma and surrounding areas. We have received critical industry-specific certifications like Microsoft Gold Partner to help better serve their customers and their expanding needs.
We have various layers of security and backup protocols for your data storage solutions. We provide customized solutions specific to your business and its needs. We will design the best and most secure storage system for your vital data. 
The data solutions we will craft specifically for your business will work for your specific budget and information needs. To ensure a stellar data storage plan, we will manage your cloud agility, data centers, hard drives, and more. Our expert professionals will ensure you have the latest solutions for your data storage infrastructure needs.
This will ensure your network functions at optimal levels. We will also ensure that our clients have access to offsite cloud backups in the event of any unforeseen circumstances. CamTech is the industry leader in Tulsa data storage solutions! We partner with you to ensure you have the best and most secure data storage solutions. Let us work with you towards your business success!