Tulsa IT Support
If you are looking for professional and reliable IT support near me, CamTech is a premier provider of IT support for businesses large and small. We provide fast, reliable service with excellent customer care to make sure your company stays safe online from the best Tulsa IT support. Our IT specialists will work with you to ensure your company's data is always protected and secure.
We understand the importance of keeping your company's data safe, which is why we offer a variety of services to help you do just that. We offer IT support for businesses of all sizes. Where so much of the world is online today, your business must have the IT support it needs to stay safe, secure, and productive. Let CamTech be your go-to provider of IT support in Tulsa so you will never again have to do a web search for "IT support near me."
Why Choose CamTech For IT Support?
For the best IT support near me, Tulsa residents can rely on CamTech. With our dedication and superior technology, we will work to keep your business secure and efficient. Not only do we provide top-notch IT support, but we also offer a wide range of other services to keep your business running smoothly. Take a look at just a few of the services we offer:
-Security and compliance
-Help desk and technical support
-Network design and installation
-Disaster planning and recovery
These are just a few of the many services we offer at CamTech. When it comes to IT support, Tulsa businesses can rest assured that they are in good hands with CamTech. Call us today to create your own Tulsa IT support plan.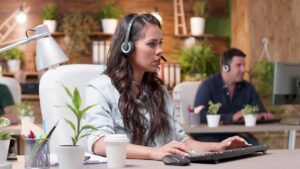 The Best In IT Support Near Tulsa
When it comes to choosing a Tulsa IT support company, it is important to consider the services they provide and if they will be able to keep up with your company's needs. CamTech offers a range of services from data recovery and system backups to onsite support and managed IT services. We are dedicated to providing our clients with the best possible service and support so they can focus on running their business no matter the size.
CamTech also provides a variety of services for businesses looking to have their computer hardware and information systems up-to-date. Our team works quickly, so you don't have long wait times when it comes time for us to fix any problems with your IT! We believe in ensuring our clients get only high-quality excellent customer care through Tulsa IT support solutions available here at CamTech.
So next time you are wondering, "where can I find IT support near me?" Look no further than CamTech! Give us a call or stop in today to chat with one of our IT specialists. We would be happy to go over all your options and see how we can offer our expertise for your IT support needs. We look forward to working hard for you!